The summer has arrived and the temperature increases everyday. I'd rather stay in the cool house with air conditioning all day long and I'm sure you would do, too. But, this new Kinchaku draw string bag makes you want to go out!
As a seasonal item, we've created some bags with ring handle which makes the bag very summery and we arranged the basic Kinchaku draw string bag with a transparent ring handle.
This bag is made from Nagoya Obi. Geometric pattern and brown color is very classic combination. Besides this bag, we made a accessory pouch and Sukiyabukuro before.
Nagoya Obi has very firm texture and yellow Shibori Obi has rather soft. This contrastive feature of both Obi makes the bag very unique.
The handle is made from also Nagoya Obi, too and it gives the bag very chic impression and consistency.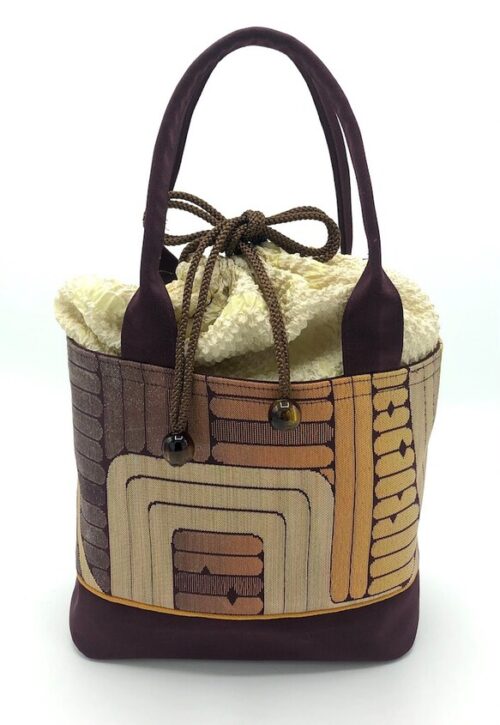 ---
The new item is finished with a ring handle. Kinchaku part is the women's Kimono slip from Taisho Period(Around 1912).
And main body is also made from Obi from Taisho period. The big peony pattern makes the bag very colorful and gorgeous.
A small pouch is attached.
The Kinchaku draw string bag shines more then the sunshine in the summer.