Today, you can have anything you want. That's why we have to rethink about Japanese traditional "use up" culture and its true value. We introduced in our recent post Handbag from Fukuro Obi in gold & silver.  We would like to introduce how many items we can make from one Obi.
Obi we use for upcycling were worn in 50 - 100 years ago. The condition of individual textile is completely different. Some are almost new and good to be reformed to anything. On the other hand there are vintage Obi which you see fold or wrinkle on them. Since they are really used and we can't avoid it. We always consider what kind of item we're going to make from Obi with different conditions. That's the very first question when we get to work.
1. Nagoya Obi small pouch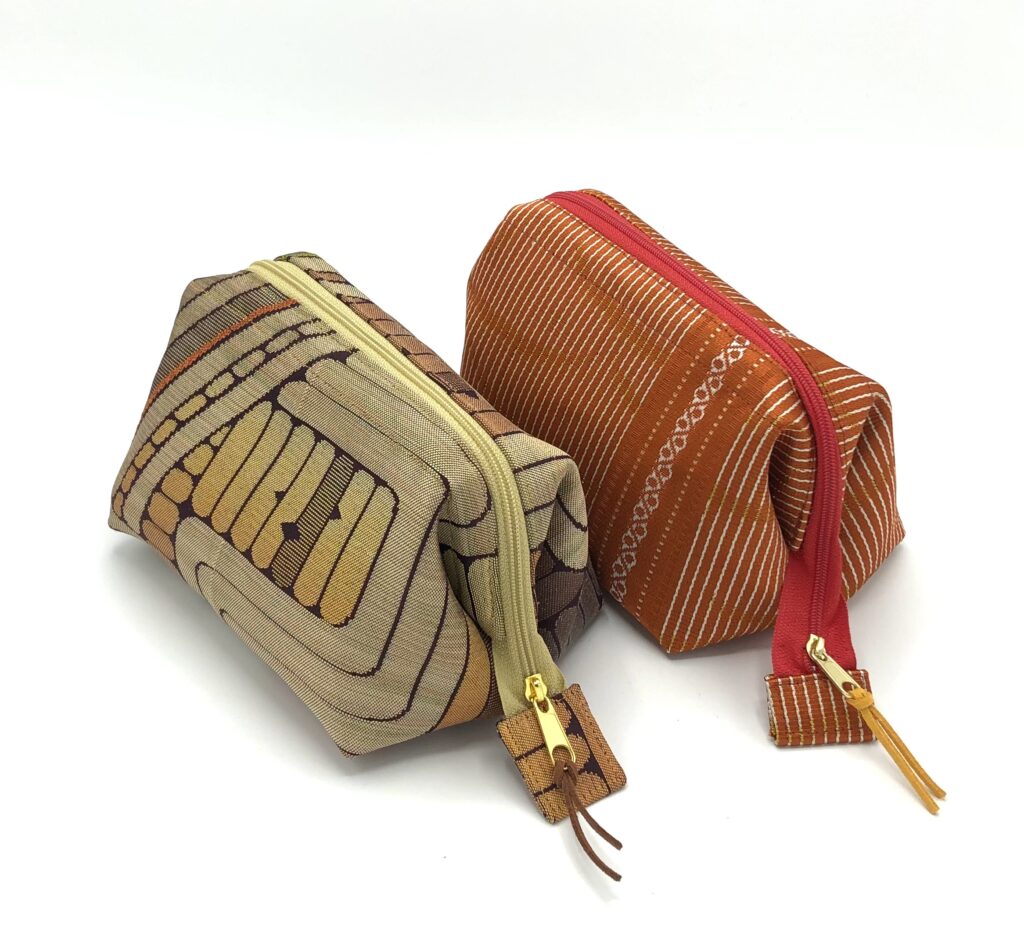 This is our first items from the vintage Nagoya Obi. The small pouch has a zipper closure with wire in the liner. The left one list the Nagoya Obi we use for upcycling. The design of textile seem to be very popular in 1960s. The textile is very beautiful in the combination with yellow, orange, green and brown. The original characteristics of Obi remain even after reform. The pouch can be used for organizing stuff in your purse.
2. Tote bag with leather hollow handle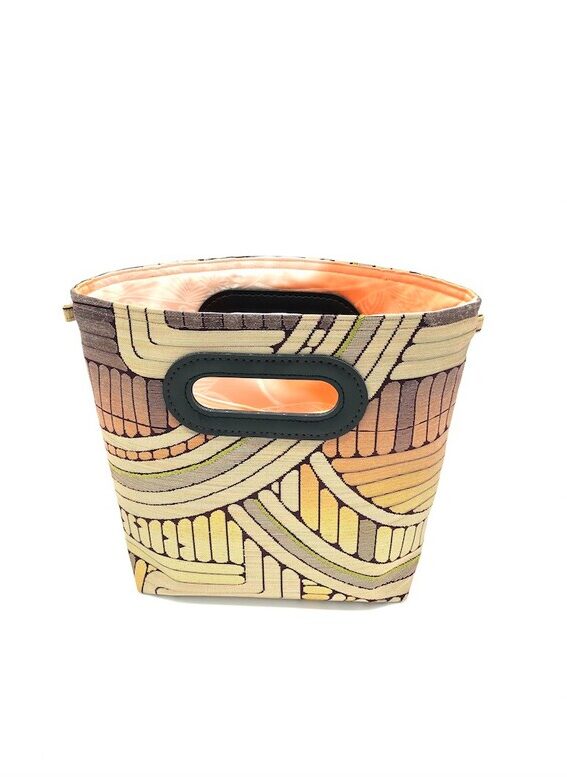 This is a small hand bag with leather hollow handbag in brown. The hand bag is H24 cm x W 20 cm and rather small but it's very useful to carry your stuff very casually. The surface of Nagoya Obi is rather firm and it makes sharp appearance. The bag contains a bottom plate. The liner is "Juban" (Kimono Slip) in orange. The Obi fits any color perfectly. The bag can be used in 2 ways if you attach a shoulder strap. The handbag is made from the same Obi as the pouch above, but it gives a new look in the different shape.
3. Drawstring bag from Nagoya Obi & tie dyeing Heko Obi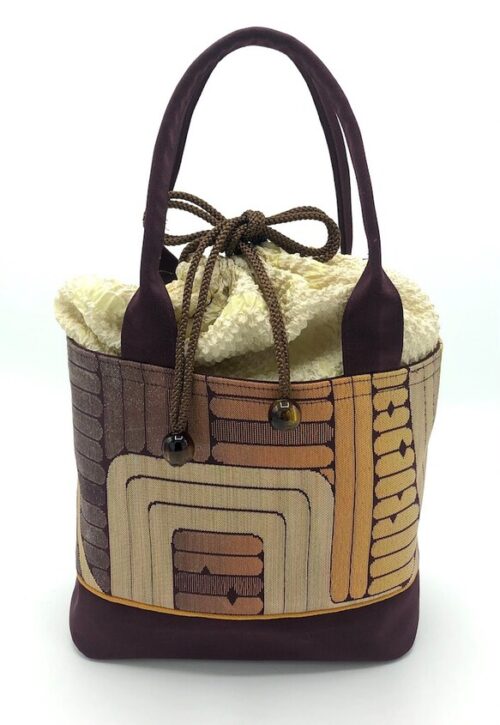 We combined the Nagoya Obi and Tie dyeing "Heko Obi". The yellow piping is used by changing the materials at the bottom. It is H19 cm x W18 sized handbag. We picked up completely different textiles for the bag but it has perfect combination in yellow color. I think, the tie dyeing Obi expresses Japanese modern feature very much but it fits any outfit.
We reused the liner of original Obi. The dark purple enhances the classic pattern of Obi very well.
4. Nagoya Obi Sukiyabukuro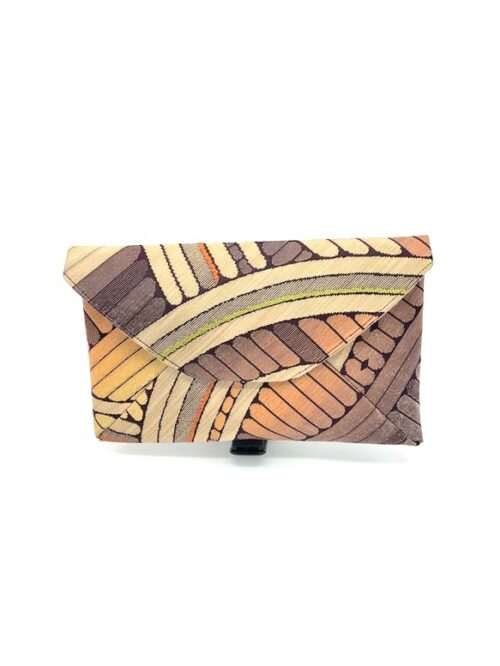 4th item is our signature product "Sukiyabukuro". With this Sukiyabukuro, we completely used the original Obi and we have no available parts from this Obi. We picked up the silk liner in pale pink. It's very eye-catching and gives a gentle and elegant impression. If you have a problem with organizing your stuff in your purse, this Sukiyabukuro definitely helpes you...I promise.
That was our "use up" project for today. The combination of different textile and color makes each item more unique. We would like to continue making items which bring you joy and happiness!