I look forward to the cherry blossom season every year. It starts usually from end of March and even at unknown local spot, the cherry blossom is stunning. We create a clutch bag and a handbag while thinking about upcoming season. These new items are made from Nishiki Ori (brocade) Fukuro Obi. The soft pink silver fits the spring outfit perfectly.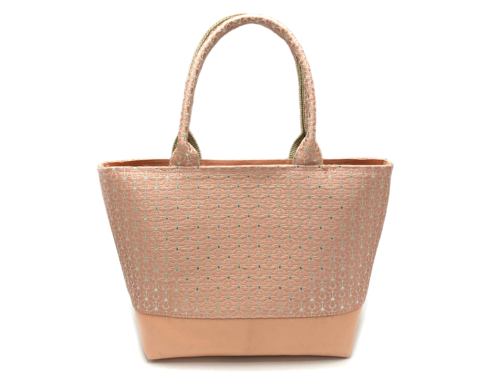 Around 50 years ago in the Showa period, there were many formal or informal occasions where people wear the Kimono and Obi. People went out in Kimono even for Hanami (viewing cherry blossom ) back in the days. I suppose ordinary people could enjoy more various combination of Kimono and Obi if they own the Obi like this which has rather generic color and is therefore very useful.
---
We can't control when the cherry blossom will start. I think that's why people love the momentary beauty of Nature. Let me guess at least when we can go to Hanami this year...maybe in 10 days?!
I can't wait for the Hanami picnic...